Delivery Rates
There are certain restrictions and rules when shipping pesticide products. This depends on the volume, weight & the toxicity of the product. All of our products are shipped using Limited Quantity & ADR regulated couriers and comply with all current legislation. All our products are packed into a secure cardboard outer which is clearly labelled with the product information, quantity, UN numbers and the class of the product.

This is the reason that shipping is slightly more expensive than sending a standard parcel. Orders placed before 1pm will qualify for next day delivery, but please allow up to 48 hours for delivery. If you need a product urgently we can offer weekend & early a.m. deliveries, however, there may be an additional charge for this. Please contact us for information.
There will be an additional charge If you are ordering product to The Scottish Highlands, Channel Islands, Scottish Isles or Ireland & other European Countries.. Enter your postcode as normal and the system should calculate it automatically. We offer free shipping on all orders over £250.00 (ex VAT). This excludes granulated fertiliser orders. These are delivered free on orders over £300.00 (ex VAT). There may also be a surcharge to heavy palletised orders; this only applies to areas outside of mainland UK. Please contact us for a detailed price.
When accepting pallet deliveries, there must be a suitable place on hard standing where the lorry can deliver the pallet. It must also be made clear at time of purchasing on any specific restrictions on lorry size or unloading. Failure to do this may result in further charges being incured by the purchaser.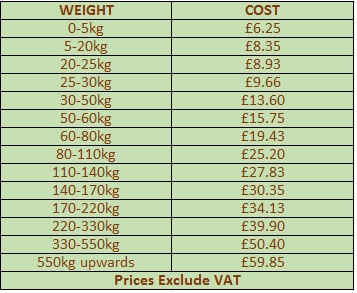 The table above shows the shipping rates for mainland UK. There may be additional surcharges for other postcodes.
To Speak to one of our team, please email sales@agrigem.co.uk or call 0800 1337849 or 01522 246491