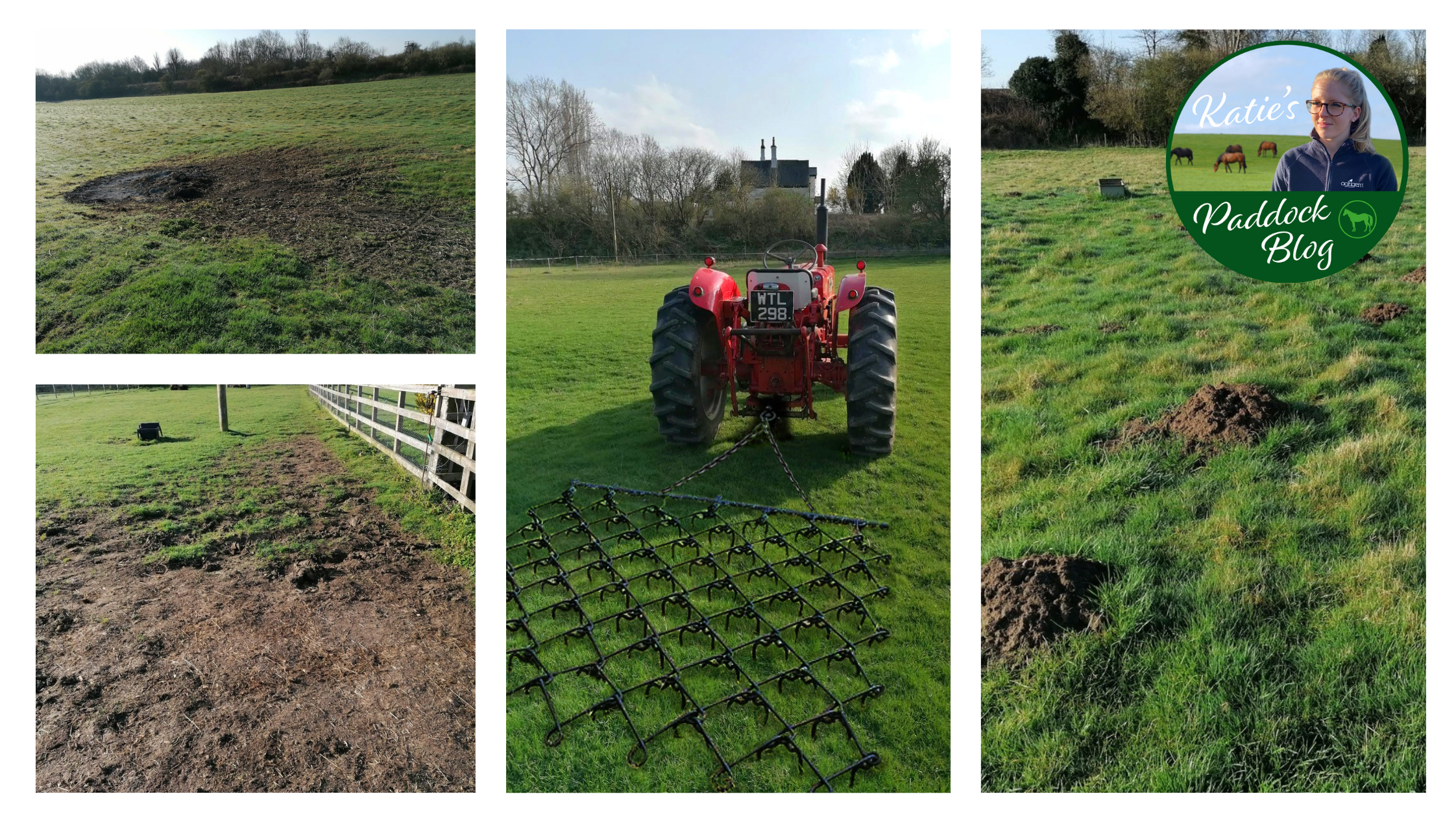 Now spring is here, and the weather was getting warmer, it is the perfect time to be harrowing your paddock. I am harrowing with a tractor around a large field, the dry weather has helped as the soil is dry making it easier for a large vehicle to go over the land. You can also harrow on damper soil if you are using a quad bike as it is lighter and will not churn the soil up and make it muddier than when you started.
In the poached parts of the field, harrowing is essential, it will remove dead grass, level out bumps, and help break up clods. This will create a more even surface to fertilise and sow seed. Harrowing helps improve air circulation in the soil and helps water infiltration allowing new seeds and growing grass to be properly fed. The other benefit of chain harrowing is if there are loose droppings in the field harrowing will help spread them around creating a natural fertiliser. Droppings help distribute nutrients and prevent grass rejection.
Not all the paddock is grazed in the winter, sheep are usually on it from April to November but during lambing, they are in. Even though it is free of livestock it still needs some TLC. Whilst harrowing existing grass won't remove dense rooted weeds, it can help break up moss clumps and remove dead vegetation. In this part of the field, there are many molehills. Harrowing molehills will aerate the soil and allow it to breathe as it has had a large amount of soil covering it.
During the warmer months sheep return and graze the paddock, this is beneficial as sheep eat mostly any plants including various grasses. This will help keep the grass down making it easier to harrow later in the year. We occasionally cross graze part of the paddock. Cross grazing with sheep is beneficial as they graze down areas of rough grass that horses avoid and control the amount of grass that is available during spring and summer. Sheep also move around a lot which means they help level out the ground which has been caused by horses' hooves. Another major benefit of sheep grassing with horses is they can help reduce the parasite burden of equine parasites. As sheep are a different species, they can ingest equine parasites halting their lifecycle without having adverse effects on the sheep.
Once you have harrowed your paddock you will need to fertilise the bare areas which need some TLC. We recommend using Nutrigrow 20-10-10 or 16-16-16. You can distribute the fertiliser straight after you have harrowed but you will need to wait 7-10 days for the granules to dissolve. Once they have dissolved you can overseed. This helps improve the quality and appearance of the paddock grass. You can use a simple paddock mix of either paddock grass seed 14kg if you have a large area or paddock repair kit 5kg if you have a smaller area to seed. Once this has been done you can then roll it to lock in moisture and create a good seed to soil contact. This process should be done when the ground is not too dry or too wet and saturated with water. Livestock should be kept off the area until the new seed has been established which is normally 5-6 weeks. Once the seed is established graze lightly for several days then let it recover for 2-3weeks. This will help their digestive system adapt to the change.
Keep your eyes peeled for April's paddock blog to cover fertilising, seeding, and rolling.