Get Your Paddock Ready For Spring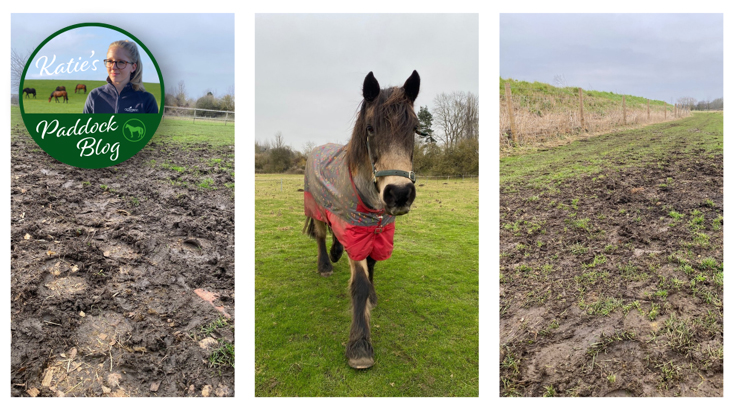 While there is not a lot you can do when your field becomes poached, it is hard to avoid the problem especially with horses and livestock as they need to be out daily for grazing and exercise.
As spring is on its way start planning ahead and get your field in a better condition so it is more maintained and healthier for next winter. As this winter has been warmer and drier, fields have not been as wet and muddy (it will depend on your soil type you have) and the quality and quantity of the grass has been a lot better than previous years. With this in mind it is the perfect time to be thinking about applying specially formulated equestrian fertiliser and grass seed.
Where there is a lot of hoof traffic such as gateways and fence lines the grass will now become muddy, you will need to re-seed this area so the grass becomes with a thick healthy sward. Re-seeding now will prevent any more serious damage to the grass and to the soil structure.
I recommend you look for a grass seed mix that has been specially formulated for paddocks and to withstand horses walking over the ground and grazing daily, such as the paddock range from Premier Seed.
If you have only got a small amount of poaching and only need to repair a very small area of your field, consider Premier Paddock Repair Seed Pack 5kg. Paddock Repair Seed is ideal for repairing field corners or gateways. 5kg will cover 143m² so it is only for small areas that need slight repair.
If your field needs more maintenance and has suffered a large amount of poaching and damage, why not consider Premier Grass Seed 14kg. A 14kg bag covers 1 acre so for re-seeding your churned up area you will not need as much as 14kg it to seed completely new grass on a bare area.
Paddock Grass Seed 14kg includes creeping red fescue, it aids the rapid repair of damaged swards and produces a dense matt of grass that will tolerate several years of wear and tear.
Getting ready for spring you need to start thinking about fertilising your paddock to kick start the growth of your grass. Areas which do not normally require fertilising will need an application, this is due to fertilisers containing vital nutrients that the soil may be deficient in to encourage a thick healthy sward of grass.
The best way to know which fertiliser is needed will be conducting a Paddock Soil Analysis. This will be best taken place in February as it will identify what nutrients your pasture is lacking from.
When applying fertiliser we have range suited just for paddocks. These are formulated to offer a balanced and general maintenance feed for your paddocks. The two products we recommend are from our Nutrigrow range. 16-16-16 I good as it is a standard maintenance fertiliser. It is the best seller as owners of laminitis prone horses and ponies, as it will not promote too much lush top growth grass, this is due to it being a more balanced feed for as it has all equal nutrients. (16% Nitrogen, 16% Phosphate, 16% Potassium).
The second fertiliser we recommend is 20-10-10. This is a general maintenance fertiliser as it has more of a kick to it, this is due to it having 20% Nitrogen and only 10% Phosphate and 10% Potassium. It will help the grass grow luscious and green. It very well suited to fields which will be grazed intensely during summer or will be cut for hay.
Both 20-10-10 and 16-16-16 are available in 25kg bags or 600kg bulk bags. These sizes will all depend on the size of the area you are fertilising and how frequent you will be fertilising the paddock.
Products Katie Mentioned:
20-10-10 Paddock Fertiliser 25kg
20-10-10 Paddock Fertiliser 600kg