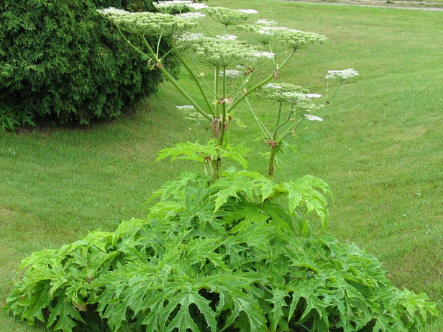 Hogweed
Common Name

Giant Hogweed

Scientific Name

Heracleum mantegazzianum

Weed Type

Gardens often near common land, heaths or woodland

Areas affected

Giant Hogweed is toxic to humans and can cause burns and blisters on the skin. It is also harmful to animals

Timing

Seen Spring / Summer / Autumn however the best time to treat is Summer
What is Hogweed?
There are several variations such as 'Giant Hogweed' which can grow several feet tall. This is also a very dangerous plant which can cause burning severe blisters and even blindness.
People are advised if it's found in the garden to not touch it without wearing full PPE (plant protection equipment).
Hogweed ('Cow Parsley' or 'Cow Parsnip' as it is sometimes known) is another variation, it is a very invasive plant that has a flower that is white, and the stem of the plant can be very tall.
Identification:
Giant Hogweed can be identified by its bright green stem that has dark red spots. Stems can grow more than 2m high and also grow white flowers in clusters.
Hogweed / Cow Parsley can easily be identified by the long-stemmed white flower that produces a clear sap. It is often seen on road verges across the country. These can usually be found in and around June to July time.
The main differences between Giant Hogweed and Cow Parsley / Cow Parsnip are:
Giant Hogweed Height 15 -20 feet : Cow Parsley Height 5 - 8 feet
Giant Hogweed Stem Width 1 - 3 inches : Cow Parsley Stem Width 1 - 2 inches
Giant Hogweed Leaf Width <5 feet : Cow Parsley Leaf Width 2 - 2.5 feet
The Problem:
Giant Hogweed produces a phototoxic sap which can cause serious skin inflammations, burns and blisters.
Hogweed can be a very dangerous plant which can harm not only human but animals aswell. It spreads quite quick across land. It is also an offence to allow the plant to spread into the wild so needs to be controlled.
Control:
Cutting it back will manage the population but if it is not killed it will just force the plants energy into rooting deeper. A targeted herbicide application is the only way to really control it for good.
You either need to apply a strong glyphosate-based product such as Roundup Pro Vantage 480 early spring with repeated applications as and when new growth appears or wait until autumn time and inject the neat Roundup directly into the stem of the plant using a stem injector. This will then take the Roundup deep into the root system as the plant naturally senesces (dies back) for the winter.
Control
We recommend using a strong, fast acting glyphosate based product such as Roundup Pro Vanage 480.
For more information on controlling Hogweed, please get in touch with our sales team on 01522 246491.