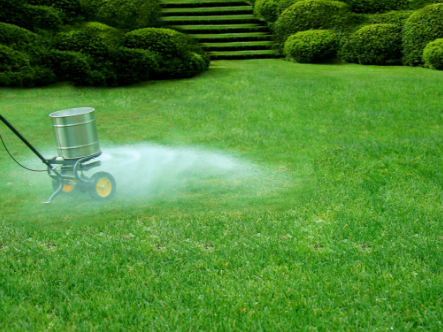 How To Fertilise Your Lawn In Spring
You will need:
- Lawn soil analysis
- NPK fertiliser (e.g Nutrigrow Spring Lawn)
- Applicator (fertiliser spreader/knapsack/boom sprayer)
- Soil conditioner (manure/compost)
- Lawn sand
- Correct PPE (overalls, rubber boots, chemical resistant gloves & face shield)
Why Fertilise in Spring?
Fertilising your lawn in Spring is essential and provides optimum nutrients for a healthy, green lawn that thrives for the full 12 months of the year. A lush green and healthy lawn also gives it resistance against issues, such as weeds, moss growth, disease and drought.
Applying fertiliser incorrectly though will cause more damage and your lawn will eventually suffer. Timing is everything and applying the correct fertiliser for your lawn environment. Getting a detailed Lawn Soil Analysis will help you to diagnose why your grass is not growing very well. You will then get a tailored fertiliser treatment plan based on the results with details of which fertiliser the grass needs, how much and when to apply. Having healthy soil structure and pH are just as important as applying fertiliser.
Know the Numbers...
The majority of fertilisers are based on three major plant nutrients Nitrogen (N), Phosphorus (P) and Potassium (K). You can find the N:P:K ratio on the product packaging and this will help you choose the correct fertiliser for your lawn. For example 20:20:20 is a balanced fertiliser with the nutrients in equal quantities. A fertiliser with a ratio of 10:12:24 would have a high potassium content in comparison to Nitrogen and Phosphorus.
What Spring Fertiliser To Apply:
A balanced blend of N:P:K nutrients is ideal for during the cooler, spring weather for grass plants to utilise.
We suggest using either Nutrigrow Spring Lawn (granular) or the Spring Gem Fertiliser (soluble) from our fertiliser range. Both benefit from balanced formulations, giving your lawn everything it needs to help prevent weeds and moss from establishing. You can spread by hand or through a fertiliser spreader (see 'How to use a fertiliser spreader' guide for further guidance). If you are seeding a new lawn then it's highly recommended to use a Pre-seeder fertiliser prior to sowing the grass seed.
Applying soil conditioners such as manure and compost help make nutrients, water and air all more available to plant roots as the soil forms into crumbs with spaces for air and water between them.
One of the most popular fertilisers to use is weed and feed as it helps to eradicate the weeds in your lawn at the same time as fertilising the grass. This saves time and money on buying selective lawn weedkiller and then lawn fertiliser separately. In addition to this Lawn Sand should be used in Spring and Summer months which helps to promote luch, green turf and if it's a wet summer it will control moss at the same time.
When To Apply Spring Fertiliser:
The best time to start feeding your lawn is generally mid-spring (often late March to April) before the heat of the summer when the soil temperature reaches around 12C. You can tell when the soil has warmed up because the lilacs begin to blossom and the grass starts growing. Remember to apply the fertiliser when the soil is moist or when rain is expected. Fertilisers are less effective in dry soil and may cause scorching of plant roots. Avoid applying spring/summer lawn fertilisers after September as they contain too much nitrogen for autumn use, encouraging green leafy top growth at the wrong time of year. Your lawn may then become susceptible to damage from the winter cold, pests and disease.
Our Top Tips For Applying Fertiliser:
> Know the size of your lawn so you know exactly how much fertiliser to apply.
> Identify the type of grass plants in your lawn as some require more nutrients (ryegrass) and some less nutrients (fescues).
> If you have weeds and/or moss in your lawn then use a weed, feed and moss killer to save time and money on buying and applying weed killer for lawns and lawn fertiliser separately.
> The 'little & often approach' is best than piling it all on at once.
> Unless the fertiliser is classed as 'drought safe' then never apply during a drought.
> Keep the lawn well watered especially if a hot and dry summer.
> Use a high quality, reliable fertiliser spreader ensuring that you have calibrated it correctly.
> If you spill any fertiliser on the lawn clear it up immediately and drench the area in water otherwise you risk scorching and killing the grass.