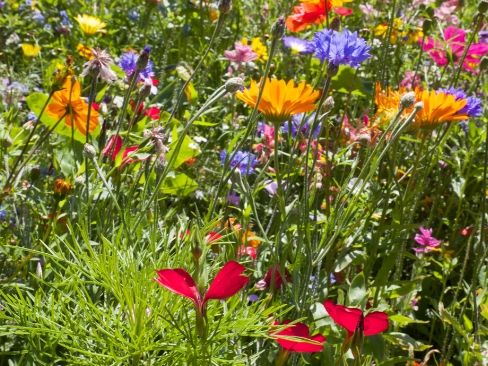 How To Create A Wildflower Meadow
You will need:
- Wildflower seed
- Total herbicide
- Digging fork
- Rake
- Water
- Netting
Why Plant A Wildflower Meadow?
Wildflower meadows are a great alternative to lawns and shrub borders. They also provide bright and colourful displays for months, without the hassle of regular maintenance. As well as looking great, wildflower meadows are ideal for attracting insects and invertebrates such as bees, butterflies and lady birds as well as birds and mammals to your garden.
Choosing Your Wildflower Seed:
It is very important to choose the correct wildflower seed for your area and soil conditions. There are two main types of wildflower meadows you can create.
1. Annual meadows- these provide a one-off display and then die off. Usually created from cornfield annual wildflowers and perform best in rich soils. A good choice when you are creating a wildflower meadow in an existing border.
2. Perennial meadows- these come back every spring. They thrive in poor soils as the grasses do not compete with the wildflowers.
How To Sow Wildflower Seed:
1. Preparing the ground is the first and one of the most important steps. For small areas, remove any weeds by hand. For bigger areas however, a herbicide such as Roundup Pro Active should be used to remove weeds and unwanted vegetation.
2. Rotovate or dig the soil and then firm the top and rake as if you are creating a seedbed for a new lawn. There's no need to use fertiliser or manure as high nutrient levels can encourage grasses to overcrowd the wildflowers.
3. Wait around 4 to 6 weeks for the soil to settle and for any remaining weeds to appear. If any weeds do appear, spray them off with a herbicide.
4. Sowing rates will vary depending on the wildflower seed mix you have. However, as a guide pure wildflower seed should be sown at 1g per square metre. To ensure that the seed is sown evenly, sow half widthways and the other half lengthways.
5. Lightly rake the seeds in and water thoroughly. If you notice birds becoming a problem, protect the seed with netting.
Take a look at our range of wildflower seed here.