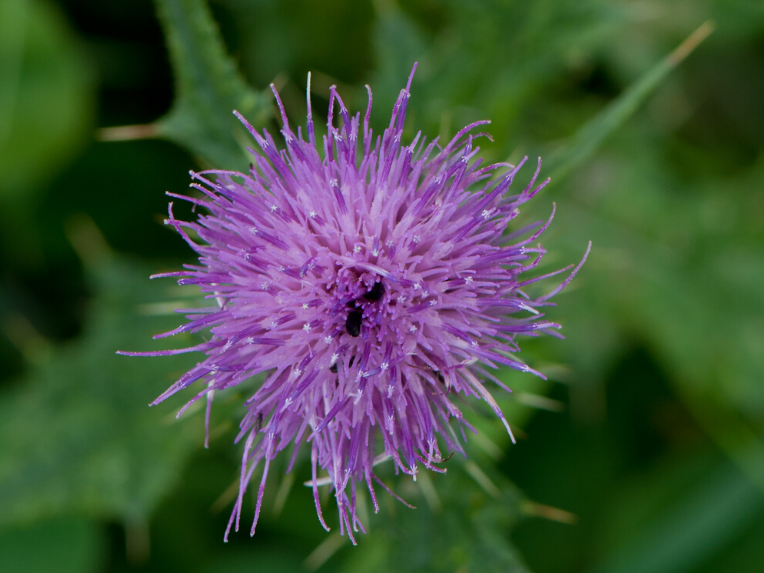 Thistle
Common Name

Creeping Thistle

Scientific Name

Cirsium arvense

Areas affected

Grassland, mainly uncultivated.

Timing

During Spring / Summer / Autumn
What Are Thistles And How Do I Identify Them?
Creeping thistle (Circium arvense) is a particularly problematic weed on grassland as it can be difficult to eradicate once it is fully established. It can also affect other areas such as gardens and waste land.
Thistles can grow up to 1.5m tall and flower from July to September with dark pink / purple flowers. Thistles produce horizontal growing roots which are brittle but easily re-grow if they are snapped or broken, forming new shoots. As these roots begin to thicken root buds will be formed and grow into new shoots. Unfortunately, cutting the grass, or aggravating them by digging the soil will only encourage new growth from these roots. Sometimes an individual plant will grow but they usually form a clump.
Why Are Thistles A Problem?
Thistles are pretty much self-fertile so will readily produce seeds and reproduce this way too. Seeds has a rapid germination and higher temperatures during the Summer months increase the germination rate. Thistles can take over a variety of areas including uncultivated soil and grassland including pastures.
How Do I Control Or Treat Thistles?
We recommend treating Thistles when they are actively growing in early spring / summer, before they start to flower. Depending on weather factors thistles normally flower between July and September.
As they can re shoot from broken roots it is important that the thistle is killed right down to the root leaving little chance of re growth. Therefore, it is often difficult to use non-chemical control methods such as digging the plant out as any damage caused to roots by a spade can promote regeneration.
Control
We recommend using a product specially designed to target thistles, for example ThistleX, as it kills right down to the root of the plant and prevents re-growth.
For more information on controlling thistles, please get in touch with our sales team on 01522 246491.