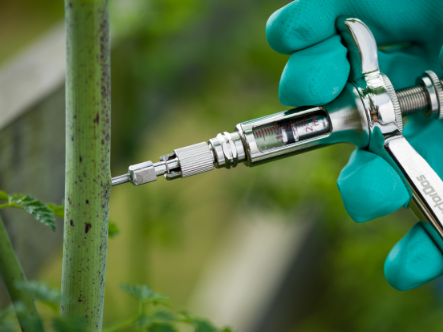 How To Use A Stem Injector
You will need:
- Stem injector
- Jug
- Clean water
- Correct PPE (overalls, rubber boots, chemical resistant gloves & face mask)
What Is a Stem Injector?
A stem injector system is a device that has been specifically designed for treating and eliminating tough invasive weeds such as Japanese Knotweed, Giant Hogweed as well as Horsetail. The stem injector is made of a sharp, robust needle which enables the herbicide to be delivered right into the centre of the stem, making it an idea method of treating invasive weeds in sensitive areas where spraying cannot be done.
The stem injector system also features several other benefits, including:
- Easy to alter and control the dispersal of chemical using the 'dial-in' facility
- There will be no loss of product to the environment
- The liquid supply is easily shut off using the in-line tap
- The stem injector kit also includes a finer needle which is suitable for smaller stems or for treating re-growth
- The stem injector kit is lightweight and easy to clean and maintain as it is made from durable stainless steel
How To Use a Stem Injector:
- Remove the stem injector from the protective carry case.
- Fill the backpack with herbicide required, using the manufacturers guidelines and ensuring you are using relevant PPE (Personal Protective Equipment).
- Make sure the chemical resistant seals are tightened.
- When you are ready to inject, we recommend injecting the stem between the 2nd and 3rd nodule from the ground and injecting once to deliver the herbicide quickly and effectively.
- Once the injection process has been completed, the system needs to be cleaned. This is an easy process of turning the shut off value and then disconnecting the back pack.
- The next step is to place the end of the pipe into a jug of clean water, and to then press the trigger to pull the clean water through the system. We recommend doing this whilst injecting into a stem to prevent any leftover herbicide residue being applied to areas you do not want to treat.
- The stem injector kit now needs placing back into the protective carry case ready to be used again.